Free EV Charging for Guests! Level 2 -- 48 Amps
"Really nice place & great value. Their Covid protocols and guidelines made us feel safe, as we were nervous staying away from home for the first time in many months. The house is lovely - understated with real charm and the room was excellent. Breakfast was superb - better than expected and better than it needed to be... plenty of choices - eggs, sausage, bacon, ham, waffles, omelet... & all cooked perfectly. Both days included a homemade muffin that was perfect to take with us on a morning hike. The set up is very easy going & focused on guestís convenience - snacks & drinks available 24/7 and there were even home baked brownies on offer which were delightful. There are several little details that just make the stay that much nicer - for example, a set of usb outlets on both sides of the bed for nighttime phone charging (last trip I had to stretch a charging cable as far as I could to rest my phone on the floor to get within a few feet of the bed), a stopper to put at the bottom of the door to snuff out light when it was time for bed & darkness, the rooms have a key code personalized for you so you remember it - and no key or key cards required... things like that. The only downside is that there isnít much walkable, but youíll probably have a car and there are hiking trails, restaurants, antique stores & Great Barrington for shopping etc within 10-15 mins drive. Thoroughly recommend." JohnG
"The breakfast was deliiiiiiiiiiiiiiiiiiiiiiicious. The staff were so kind and courteous. Grounds and house were immaculate. Awesome location right down the street from Great Barrington. We will definitely stay here again. Super modern bathrooms, HVAC, and security systems with the charm of a historical home."
Display Guestbook
(.pdf file)
3 out of 13 best short hikes in Massachusetts are in Sheffield. Click here!
Non-smoking House!
(smoking outside only)
"Beautiful B&B with very nice accommodating owners. Our room had every detail that you would need for a comfortable overnight stay: EXTREMELY clean room; comfortable bed; multiple phone chargers, bedside lights for both people, big TV, Wifi, nice shampoos and soaps; refrigerator; home made cookies; Coffee and Tea downstairs. Nice hot breakfast to start the day. Highly recommend. I had no complaints." Amelia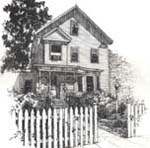 Check out our sister inns in the Boston area, the Morrison House and the Davis Square Inn.




Your hosts are fully vaccinated! If you reserved after 4 August 2021, every member of your party 12 or older must be fully vaccinated before your arrival. You will be required to show vaccination card(s) or copy(s).

Click here for a video.

Click here for our latest newsletter.

Delicous full breakfast included!

Tanglewood is back this summer: July 9 - Aug. 16!
Hancock Shaker Village opens April 17 with baby animals!


Store your skis in the barn and warm yourself by the fireplace. Near Butternut and Catamount ski areas.
Great for parents. Short drive to Berkshire School, John Dewey Academy, Hotchkiss School, Salisbury School, and Indian Mountain School.


We are now open for business with new procedures to keep you safe. It is exciting for us to be taking guests again!
Area restaurants are open for outdoor and indoor dining. Click here for a partial list.

The meticulously renovated Sheffield 1802 House has retained the charm of the 1802 manor yet provided spacious, well-appointed guest rooms and beautiful modern bathrooms. All rooms are air-conditioned.

Breakfast includes gourmet coffee and tea, fresh fruit, a hot dish, along with accommodation for allergies and special diets.



The lovely large grounds are for your enjoyment.